With the toolbar in ProNote you have all your whiteboard features easily accessible.

Writing tools
ProNote offers the choice of a pen feature and a highlighter feature. To change colours, first select the pen or highlighter. This can be done by selecting the relevant buttons in the toolbar. Next, you can change the colours on the left-hand side for the thick and thin pen point. The two Prowise pens allow you to write with both sides with a different line thickness for each side. It is also possible to set the line thickness of the two pen points independently.
The following elements can be chosen
Choose from 10 main colours

These 10 colours can be customised by using the sliding bar

Choose from 4 line thicknesses
Select function
Use the select function to move, duplicate or delete objects or change the colour of objects. You can select objects by clicking on them or making a selection with the lasso function.
Eraser feature:
You can choose one of three eraser options.
Erase parts of the canvas manually.

Use the lasso to

Clear the entire canvas.
Mini tools:
Use this feature to add various mini tools to your file. There is the option of the following mini tools.
Note

Set square

Ruler

Protractor

Stopwatch
You can add as many mini tools as you want. The tools can be used by multiple people at the same time. You can also write and use a mini tool at the same time.
Writing function:
Select this feature to write or draw freely.
Line feature:
With this tool you can select various line styles. Click on to line tool to select one of the available line styles.
Shape feature:
With the shape tool you can place circular, triangular and rectangular shapes of every size on the canvas.
Annotate feature: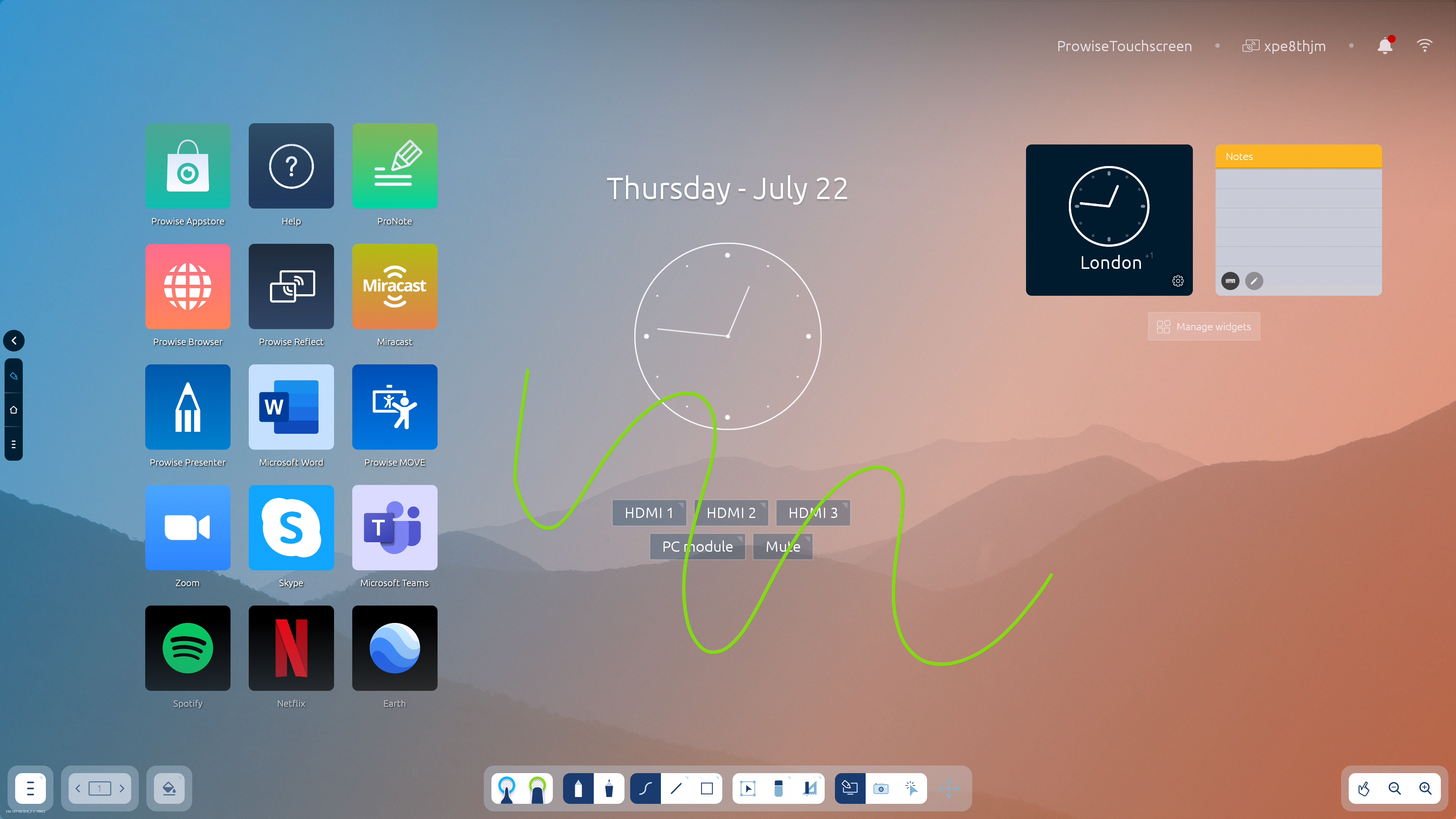 Use the annotate button in ProNote to take notes over the selected input source. For example, you can take notes over websites, files or applications. This way you easily add notes to any input source.
Select the annotate function to return to ProNote without adding a screenshot

Select the camera button to add a screenshot to ProNote

Press the right button to hide ProNote and use the screen as usual. You can always open the annotation mode again with the button in the middle of the screen.
Move toolbar:
Move the toolbar by pressing the toolbar button and dragging it to a different place on the canvas.